About Us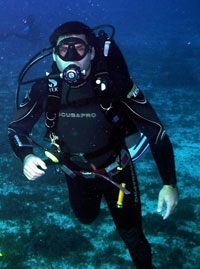 Humberto Lazcano
SDI Instructor Trainer ACUC Instructor Trainer Evaluator
Humberto, a.k.a. Pepe, was born and raised on the beautiful island of Cuba. From the time he was 8 years old he loved to dive. Surrounded by the ocean he decided to make a career out of diving. He is an SDI and ACUC Instructor Trainer. Humberto Lazcano Owner and Head Instructor at Adventure Divers is the proud recepient of SDI's prestigous 2012 and 2013 "Outstanding Instructor Award".
Humberto is a proud husband and father of two children. His son Alex is a certified SDI Advanced Diver who loves to go diving with his dad and help out in the store whenever he can. His daughter Rocio recently completed her SDI Jr. Open Water Diver Course. Together with his wife Sherry, they own and operate Adventure Divers.
Humberto has a wealth of experience and information to share with all of his dive students. Humberto has a passion for diving and the patience to teach anyone.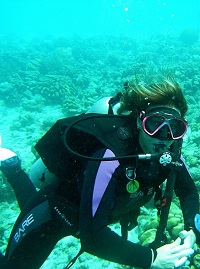 Sherry Lazcano
SDI Rescue Diver and Certified Travel Consultant CTC
Travel is my background and chosen career. Born and raised in Peterborough, I graduated from Sir Sanford Fleming College in Travel and Tourism. After graduation I never looked back--spending the next 12 years living and working in Cuba, Dominican Republic and Venezuela.
I met my husband, Humberto, while working in Cuba. He introduced me to the awesome world of scuba diving. We had the most beautiful dive site in our back yard, The Bay of Pigs.
Braving winter, we moved to Peterborough in hopes of finding a better life. Moving back to my grassroots has been great and we thoroughly enjoy raising our two children here. I never imagined that one day, I would own my own business. I love working with our students and seeing their reaction from their first dive experience. I am very proud to be a part of our local diving community and look forward to many more adventures together.
Alice Gravel-Carson
SDI Instructor
I grew up on Georgian Bay and as a girl was fascinated by everything that swam in the water. At the age of eight it was, muskrats, turtles and carp and as I grew older, it became everything that I couldn't see under the water. I loved to swim and did this from May to October every year. The neighbourhood kids were always the first ones in by May 24 and we were loathe to give it up--even at the end of September. As the third oldest of seven children—all born within 11 years—I had four younger siblings that I taught to swim and cared for at the local beach to make sure they were safe.
My dream was to be a marine biologist and live in Hawaii. By the time I hit my early 20's, I was married with a couple of children and life happened... I never lost sight of my dream though and when the children were grown, I decided that it was time to do something about it. I signed up for the Open Water Diver course and I never looked back.
I'm living my dream and it has been more rewarding and exciting than I could have imagined. The inspiration of seeing a spotted eagle ray soar through the ocean in front of you, or one of the most long-lived of all creatures--the sea turtle, swim along side of you or feel the immense power of a shark moving beside you brings realization of how truly wondrous the ocean really is. Please come and join me as I'd love to share this experience with you.
Tim Butcher
ACUC & SDI Instructor
I've been enthralled with the rapture of the deep since I was a young boy, then in 1999 my wife 'bought' me scuba diving lessons... The rest is history. She has become a diving widow since.
There is nothing more serene than gently moving with the current watching the fishies and the beautiful corals go by or diving down on the remains of a long ago sunken ship.
As an instructor I have the privilege of watching my students grin with delight and see the awe in their eyes during and after their first dive.
My favourite dive sites are the Galapagos Islands, anywhere along the Bay of Pigs and Curacao. Ivy Lea and Kingston rank as my top dive sites in Ontario... So come on out and DIVE!
Kathy Manson
SDI Divemaster
I had been snorkeling for a few years while on vacations and on one vacation in Tanzania we were snorkeling with dolphins and that was the moment I decided it would be better to be under the water then on surface.
I started my diving course for Open Water in January 2012. Following that training I continued my education, diving and training throughout Ontario and the Caribbean. Diving has opened up some wonderful places for me including amazing underwater environments and a desire to learn and develop skills but also to teach and share with others so they are able to experience all that I have. Diving has become a very important part of my life. I strive to educate myself, improve my skills and help others to do the same. With my instructors from Adventure Divers and friends in our dive community moving onto the SDI Divemaster Course was a very easy decision to make. I successfully completed my Divemaster Course in September 2015.
David Willis
SDI Divemaster
Dave Willis started diving in 2005 and has over 350 dives from his travels abroad and locally. What he loves most about diving "is simply being able to be still, hang motionless and breathe."
David Heaman
SDI Divemaster
Dave Heaman started diving in December of 2012 and quickly became an avid diver. He has over 250 dives and has traveled with Adventure Divers to numerous dive destinations. He looks forward to the future in assisting with new and experienced divers.
Alejandro (Alex) Lazcano
SDI Divemaster
Raised around the water Alex put his first tank on when he was three (3) years old of course under the supervision of his dad. After that it was a natural progression for him to take up diving. Certified at age 10 Alex has continued his dive training completing all of courses to become a Masterdiver and then moved on to the professional side of diving to become a Divemaster. Alex is also a certified Drysuit Diver and Full Face Mask diver.
He works in the dive shop as a sales representative and assists with Snorkel Courses, Open Water Courses and works with certified divers as a dive guide and assisting with refresher courses. Alex works very well with people. Adventure Divers continuously receives wonderful comments about his ability to work with our divers and snorkelers. Alex has travelled to numerous dive destinations such as Cuba, Bonaire, Cozumel, Curacao and the Florida Keys to name a few. He enjoys sharing his diving knowledge and experiences with all of our dive community. Alex's career goals are to become a Combat Navy Diver in our Canadian Armed Forces.