March Break Junior Scuba Camp
Description
SDI Junior Open Water Diver Course
Calling all Future Divers ages 12 to 17!!!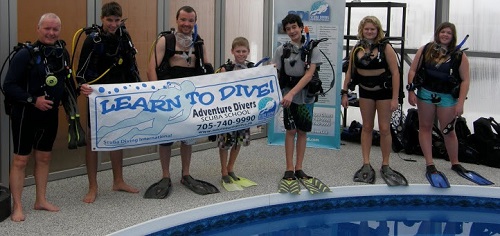 Join Adventure Divers for a week of fun right here in your own backyard. We are proud to offer youth ages 12 - 17 an opportunity to learn to scuba dive. This is a full program, Tuesday to Friday from 10:00 am to 4:00 pm. Class sizes are small, 4-6 students--providing our students with an excellent instructor-student ratio. Parents, you can drop your kids off and feel great knowing they are participating in a healthy activity and learning at the same time.
The Scuba Diving International (SDI) Junior Open Water Scuba Diver course is an entry-level certification course designed to give junior divers the necessary skills to safely participate in open water dives such as rivers, lakes or oceans with a certified adult.
Prerequisites:
Youth between the ages of 10 through 14 may obtain an SDI Junior Open Water Scuba Diver Certification if the following conditions are met: junior students are to train and dive under the direct supervision of a parent, guardian, or active dive professional. When an SDI Junior Open Water Diver reaches the age of 15, they may upgrade to an SDI Open Water Scuba Diver certification.

This course consists of two (2) components: The Confined Water Training is a combination of academic and in-pool scuba skills training and the Open Water Testing "Check-Out Dives" which are four (4) open water dives with an evaluating instructor, conducted over two (2) consecutive days.



CONFINED WATER TRAINING

The Confined Water Component is a combination of academic and in-pool scuba skills training.

The Academic portion of the course is done online through Scuba Diving International (SDI) eLearning program, allowing you the flexibility to study at your own pace and in the convenience of your home. It covers the marine environment, principles of scuba, physiology of scuba diving, scuba equipment, and much more.

The Scuba Skills Training portion of the course is held over the five (5) days of the March Break for a five-hour (5-hr) session each day. During these sessions, you will spend part of the time in the classroom reviewing the online course work to ensure comprehension of the material covered, participating in topic discussions, and hearing presentations by guest speakers when available and part of the time will be in the pool learning how to assemble and use scuba equipment and developing and practicing scuba skills and buoyancy.
Course Content:
10-12 Hours of Classroom and eLearning study
8-10 Hours of Pool Sessions for Scuba Skills Development
Final Knowledge Online Multiple Choice Test
Pool Sessions Include:
200 metre swim, 10 minutes tread water
Snorkel Skills
Scuba Skills
Required Equipment
Students are required to have their own scuba caliber mask and snorkel, boots and fins for the pool sessions. If you do not have the required gear, please drop by the dive shop and one of our professional staff will assist you in making the right purchase.
Course Registration:
All students together with their parent/guardian must come to the dive shop to complete the proper registration forms and pay for the course. Once you have registered you can pick up your Student Kit and take your first step toward learning to scuba dive. All students must complete the medical questionnaire. Please note: Only if you answer YES to any of the medical questions do you require a signed Physician's form prior to taking the course. Medical Form.
For more information or to register for this course, please contact Adventure Divers at (705) 740-9990 or email info@adventuredivers.ca
Let our professional staff with over 20 years of diving experience introduce you to excitement and adventure in the world of SCUBA
Location
Adventure Divers is pleased to offer training at our retail dive shop location, featuring an enclosed heated training pool, change rooms, and classroom. We are located on Highway 7 just 4 km south of Fowler's corners between Lily Lake Road and Parkhill Road. This section of Highway 7 connects to Highway 28 to Port Hope.
Additional Details