Description
Rescue Diver will expand your knowledge and experience beyond the purely recreational level. You will learn to look beyond yourself and consider the safety and well being of other divers. Rescue Diver training will prepare you to recognize the signs and symptoms of problems before they occur, and if necessay, manage dive emergencies.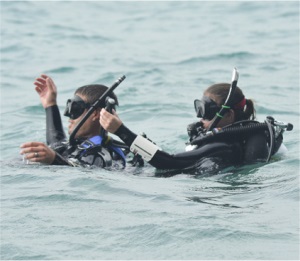 Prerequisites:
Minimum age 18, 15 with parental consent
In good physical and mental health
Proof of current CPR, first aid and oxygen O2 provider certification
Proof of Advanced Diver certification, or equivalent, or open water diver certification and 40 logged open water dives
Note: CPROX, CPR1st or CPROX 1stAED courses may be combined with the rescue program.

At the successful completion of the course you will obtain a Rescue Diver Certification. You are now qualified to act as Safety Diver in other training courses and diver outings, under the supervision of an Instructor.
Location
All Academic and Confined Water training are conducted at Adventure Divers. We have our own private indoor heated pool and onsite classroom. We are located in the west end of Peterborough on Hwy 7 (4 km south of Fowlers Corners between Lily Lake Road and Parkhill Road West, 9 km north of Hwy 115)
Additional Details
Cancellation Policy:
All course fees are 100% non refundable and valid for one year. In the unlikely event you have to reschedule your scheduled pool sessions or evaluation dives, schedule changes are allowed up to seven (7) days prior. Within seven (7) days a rescheduling fee of $25.00 will be charged. Some exceptions may apply. Refunds will ONLY be made if a student withdraws from a course prior to the course start date due to medical reasons, substantiated by a signed medical certificate an administrative fee of $50.00 will apply. If a student withdraws from a course once the course has started no refunds are given – no exceptions.

Course Content:
3 Hour Lecture
1 1/2 Hours Pool Skills
Review and Final Exam
5 Open Water Rescue Dives

During the in-class, in-pool, and open water sessions you will cover the following:
Self-Rescue and Diver Stress
Dive First Aid
Emergency Management and Equipment
Swimming and Non-Swimming Assists
Missing Diver Procedures
Surfacing the Unconscious Diver
Inwater Artificial Respiration
Dive Accident and Panick Scenarios