Advanced Diver Development Program
Description
Having completed your Open Water Diver training you are now on your way to becoming an Advanced Diver. The Advanced Diver Development Program is designed to train divers in 4 different specialties. It is mandatory for divers to complete their Deep and Navigation specialties. They can then choose 2 other specialties from the list below.
Advanced Buoyancy
Altitude Diver
Boat Diver
Computer Diver
Computer Nitrox Diver
Diver Propulsion Vehicle
Drift Diver
Dry Suit Diver
Equipment Specialist
Full Face Mask Diver Specialty
Ice Diver
Marine Ecosystems Awareness
Night- Limited Visibility Diver
Research Diver
Search & Recovery Diver
Shore/Beach Diver
Underwater Hunter & Collector
Underwater Photography
Underwater Video
Visual Inspection Procedures
Wreck Dive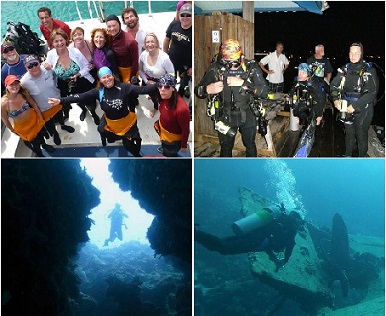 When you have successfully completed your 4 specialty courses and you have logged 25 dives (these can included any and all training dives) you will receive your Advanced Diver Certification card. As an Advanced Diver you become more independant and confident to dive without the help of a dive leader and to really enjoy the magic and wonder our oceans, lakes and rivers have to offer.

By earning your Advanced Scuba Diver certification you will increase your abilities and comfort in the water and be ready for the next step, Rescue Diver.
Location
Classroom and confined water training conducted at Adventure Divers where we have our own private indoor heated pool and onsite classroom. We are located in the west end of Peterborough on Hwy 7 (4 km south of Fowlers Corners between Lily Lake Road and Parkhill Road West, 9 km north of Hwy 115).
Additional Details
Course Content:
Each specialty course is unique, but the general course format is similar. Divers will need to read the textbook or online study, complete the knowledge review with their instructor, write the final exam if required, and complete 2-4 dives in that speciality.