Trips
Soccoro Dive Trip
LEVEL
Advanced - Master Diver
TRAVEL DATES
April 2nd 2019 - April 12th 2019
VACATION DESCRIPTION
EAT SLEEP DIVE
Adventure Divers is going back to the Socorro Islands!!
We will cruise 250 miles south of Los Cabos, Mexico into the eastern Pacific Ocean to the Revillagigedos Islands—more commonly known as the Socorro Islands—to dance with Giant Pacific Manta Rays, cavort with Dolphins, swim with Sharks, perhaps even a Whale Shark and thrill to an occasional lucky interaction with migrating humpback whales.
This is remote, adventure diving at its finest. This destination is so popular we are forced to book this group 1.5 years in advance.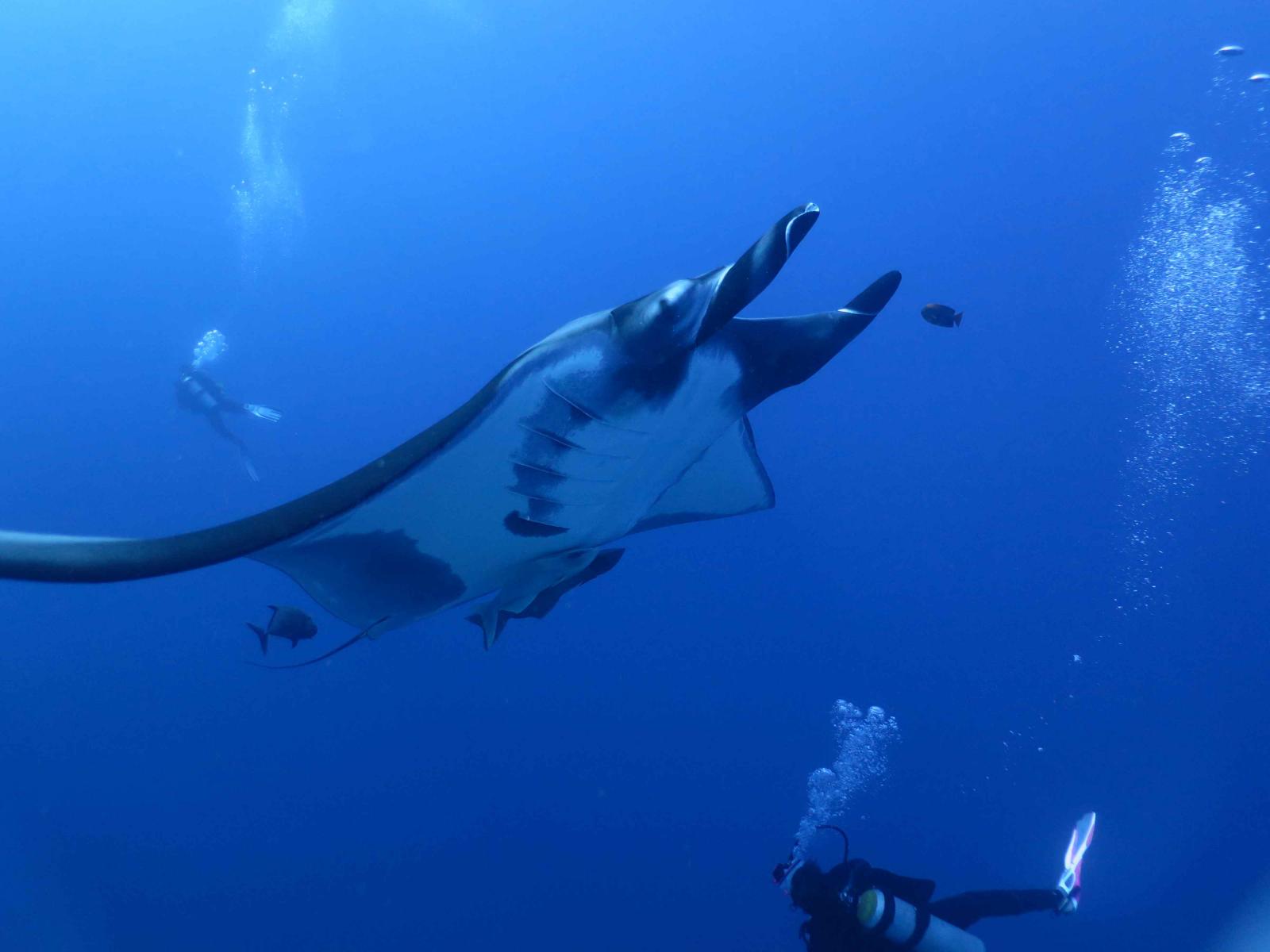 Join us April 02-11, 2018 for the dive trip of a life time aboard the spacious MV Valentina Liveaboard of the Fun Azul Fleet.

Our customized Group Package Includes:
Local roundtrip airport transfers in Cabo San Lucas
Nine (9) Nights on board Accommodation
Three (3) meals per day plus snacks
All beverages including soft drinks, beer and a glass of wine with dinner. All other beverages will be billed to your cabin.
National Park / Port Fees
Seven (7) Days of Guided Diving - Approximately 22 Dives total
Nitrox for entire trip
Tanks, weights and weight belts
Mexican Taxes and Fees
Price .......... $3910.00 pp All rates are quoted in American Dollars.
Space is very limited only four (4) spots available. A $500.00 deposit per person required at time of booking. Please call Sherry at Adventure Travel 1 855 740 9990 or 705 740 9990 to book your spot today.


Location
The Revillagigedos Archipelago, more commonly called
Socorro
is located in the eastern Pacific Ocean approximately 250 miles south of Cabo San Lucas, Mexico – at the tip of the Baja peninsula. These islands have been compared to the Galapagos Islands in Ecuador or Cocos Island in Costa Rica because of the big animal encounters they provide.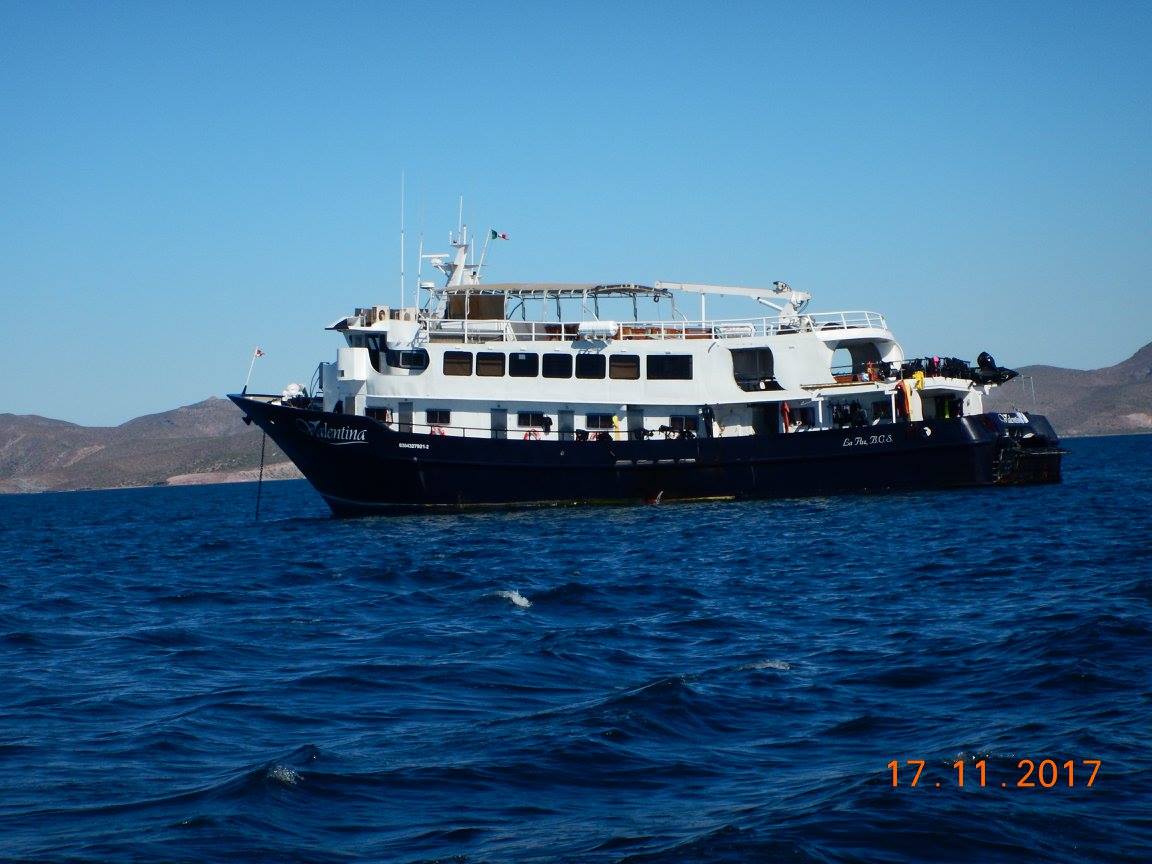 MV Valentina
The MV Valentina is one of the most spacious ansd stable live-aboard dive vessels in the world.
You will be well-fed from the time you set foot on board until the time you leave. Arriving guests are greeted with snacks and a welcome drink.
All guests receive unmatched service and comfort while experiencing the best big animal diving on earth!
MV Valentina vessel was specifically designed with your comfort in mind.
PRICING & PACKAGING
<p><strong>Our customized Group Package Includes:</strong><br /> Local roundtrip airport transfers in Cabo San Lucas<br /> Nine (9) Nights on board Accommodation<br /> Three (3) meals per day plus snacks<br /> All beverages including soft drinks, beer and a glass of wine with dinner. All other beverages will be billed to your cabin.<br /> National Park / Port Fees</p> <p><em>Seven (7) Days of Guided Diving - Approximately 22 Dives total </em><br /> Nitrox for entire trip<br /> Tanks, weights and weight belts</p> <p>Mexican Taxes and Fees<br /> <strong><em>Price .......... $3910.00 pp</em></strong> All rates are quoted in American Dollars.<br /> Space is very limited only 18 spots availablet. A $500.00 deposit per person required at time of booking. Please call Sherry at Adventure Travel 1 855 740 9990 or 705 740 9990 to book your spot today.</p>